Polyurethane Top Coat Roof Logo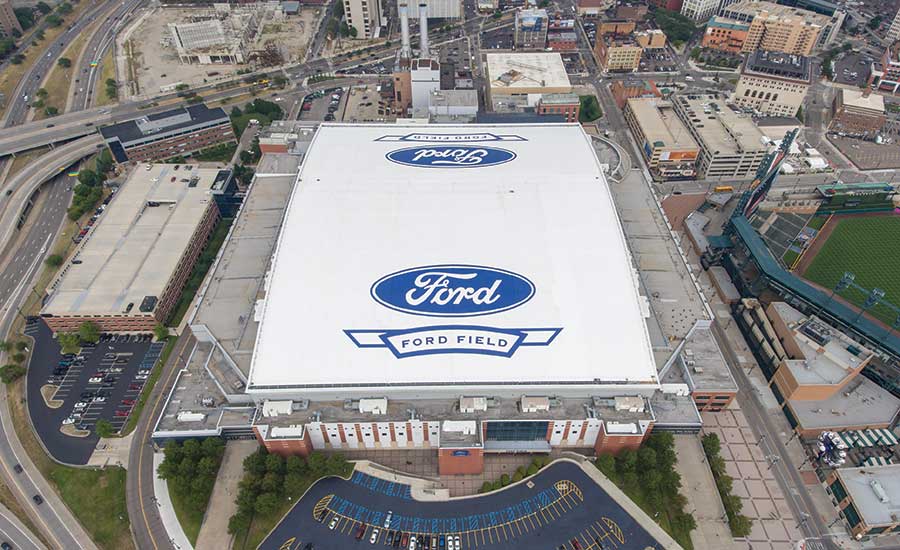 The Detroit Lions were among the handful of teams in contention for a division title and a guaranteed spot in the National Football League playoffs in 2016, and it's largely due to their performance at home.
The Lions finished an impressive 6-2 at Ford Field and were just a few big plays short of its first division crown since 1993 and a seventh win at home for just the fifth time in the franchise's eight-decade history. And none of it would've been possible without critical repairs to the Ford Field roof over the summer. Repairs that kept the moisture out, and the energy inside during each of the team's thrilling come-from-behind victories.
The Problem
Built in 2002 for $430 million, Ford Field has become a vital mix-use facility for the upper Midwest that's hosted multiple major sporting events — including the 2009 NCAA Final Four and Super Bowl XL. In recent years, it's also served as a destination venue for some of the biggest entertainment stars around the world ranging from the Rolling Stones to Beyoncé.
With a seating capacity that exceeds 70,000 people, it immediately became the new home of the Lions, who for the majority of two decades wallowed in mediocrity while playing in the now decrepit (and coincidentally roof-less) Pontiac Silverdome. Coupled with Comerica Park — home of the Detroit Tigers — next door, the stadium helped mark the beginning of the core city's latest renaissance, which still continues despite political turmoil and an unprecedented, historic bankruptcy.
Though only 14 years old, Ford Field's 340,000 square-foot domed roof began to show signs of age and weathering under Michigan's harsh, cold winters and muggy, sun-soaked summers. Moisture had already caused some damage to the insulation underneath a small portion of the roof and there was a greater potential for leaks if left untreated, according to a formal inspection provided by Tremco Roofing and Building Maintenance in 2015.
The Team
Led by Senior Field Advisor James Getzen, the Tremco team recommended its fully-reinforced, two-coat AlphaGuard™ BIO system to restore the roof. Restoration is much more sustainable than replacement because the existing roof membrane is significantly upgraded, not torn off and sent to landfills. This long-term approach to extending the life of the roof, instead of replacing it, delivers maximum value with a significant reduction in cost.
The roof restoration was also part of a larger investment to increase the facility's energy efficiency and sustainability.
"Using Tremco Roofing's diagnostics services, we thoroughly analyzed the roof and found areas with ongoing leaks that resulted in moisture-laden insulation," Getzen said. "Fortunately after 14 years… read more here